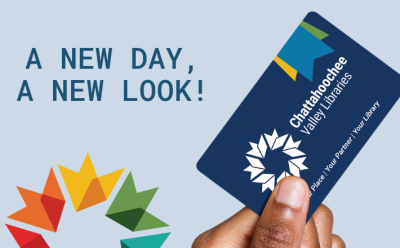 In preparation for National Library Week, The Chattahoochee Valley Libraries has launched a new website.  This new platform, which will improve your online customer experience has been coordinated simultaneously with a new brand featuring a new Library logo.
With the refreshed branding prominent throughout, our new website provides an expanded homepage menu to access books in various formats, research tools, free programs and classes, and less traditional offerings such as museum passes. The new quick link icons allow us to showcase services and resources that matter most to our community such as meeting room spaces, author visits, and genealogy resources. We'll also be able to prominently highlight new releases and staff recommendations. Designed to be fully responsive for mobile, tablet, and desktop users, I know you'll find this tool to be key in locating the information you need no matter what device you use. 
Launched more than 15 years ago, the old logo was difficult to use across emerging digital platforms and was simply outdated.  While circulating books remains core at CVL, we are regularly called on to provide computer help, resume assistance, and critical outreach services for disadvantaged populations. Our new abstract logo features a crisp, modern design and bold colors that will help us communicate how we've evolved to meet those changing needs in our community.
We encourage you to visit the new site often to explore all we have to offer.
Here's Our Story
The story of the Chattahoochee Valley Libraries (CVL) is not one story but many. Each patron, staff member, and partner has their own unique connection to the library. The new mark reflects the individual nature of these stories and tells the story of interconnectedness, inclusivity, and movement. Each piece represents a branch location and fits together as part of a larger whole; each piece is essential. Together they reflect the interdependence of the library, community, and partners. The Library is not static. CVL reaches out into the community and expands beyond its walls to meet the community where it is. Lastly, the design gives a nod to a bookmark symbolizing that we remain a hub for books and knowledge.
---