The Columbus Public Library has two computers equipped with the following:  
Big and Bright Keyboards – large print keyboards for customers with low vision 
Magnifier – computer screen magnification for customers with low vision 
NVDA (Nonvisual Desktop Access) – screen reader for customers who are blind or with low vision 
Windows Speech Recognition – controls computer using voice commands
 Additional equipment:
Magnilink S – video magnifier for customers with low vision 
Magnilink Voice – document reader for customers who are blind or with low vision 
Magnisight – magnifies print materials or objects in color or black & white 
Perkins Brailler – embosser and computer converts MS Word documents into Braille. This service is available during Columbus Public Library's normal operating hours with 24 hours notice. 
A state-of-the-art recording studio, designed under guidelines of the Library of Congress National Library Service for the Blind and Physically Handicapped and purchased with funds from the Country's Barbecue Midnight Express Run, is now recording printed materials for blind and visually impaired residents of Georgia. Our locally recorded programming is produced and broadcast statewide by the Georgia Radio Reading Service (GaRRS) intended exclusively for listeners who are blind, visually impaired, or print disabled. Programs are free and are available to users 24 hours a day-7 days a week. Listeners can listen online, through an app, over the phone, or tune in using a free radio receiver provided by GaRRS.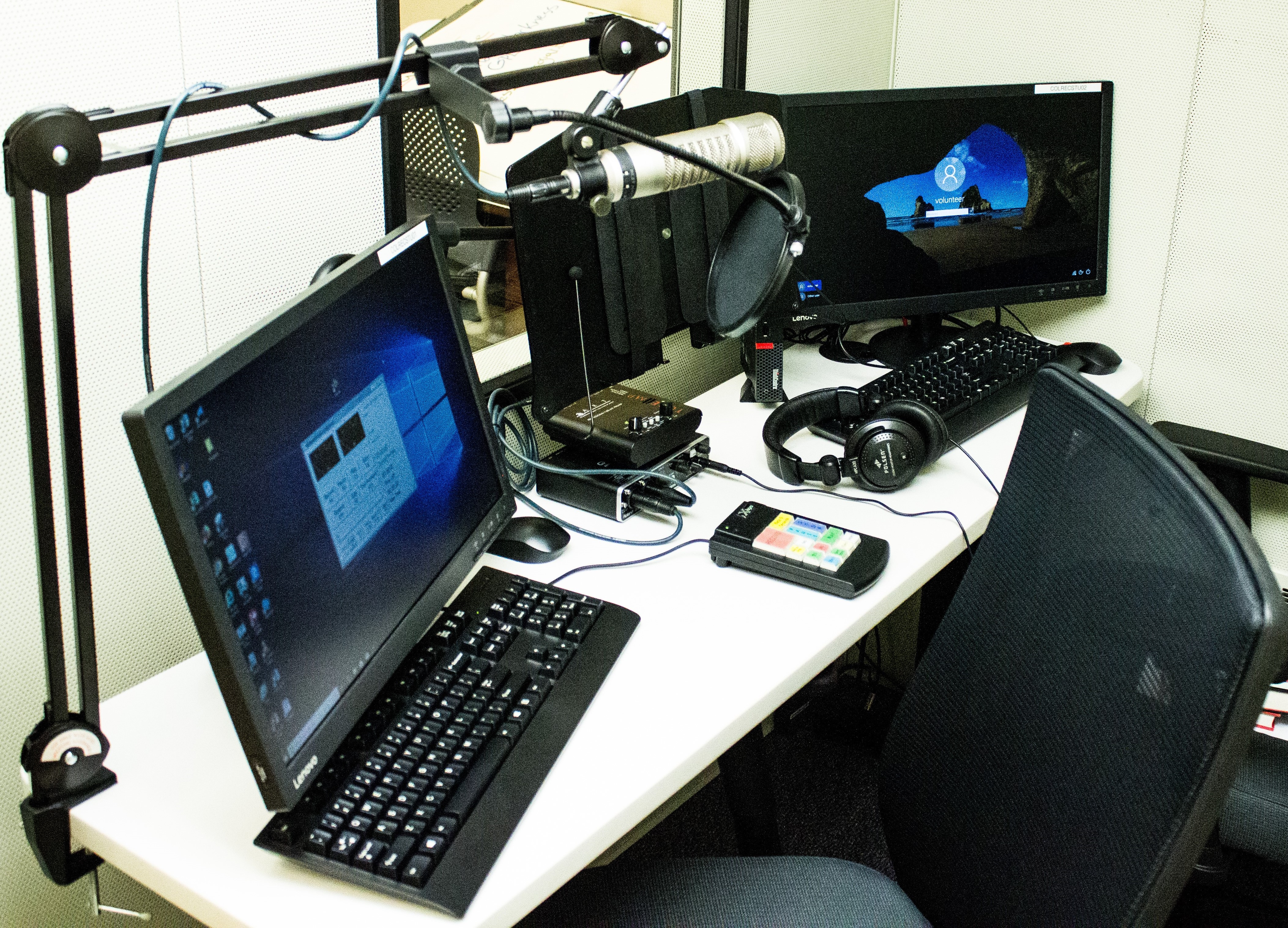 GLS: Georgia Library Service for the Blind and Print Disabled
About GLS
Through Georgia Library Service (GLS) for the Blind and Print Disabled, Georgia Public Library Service provides library services for individuals who are blind or whose physical abilities require the use of books and magazines in audio, braille or other adapted formats.
GLS provides vital reading materials in accessible formats. Individuals are eligible if they are blind, low vision, or physically unable to hold a book and turn the page. GLS services are also available to those with reading disabilities such as dyslexia.
Could someone you know benefit from reading materials in an accessible format? Learn more about Georgia Library Service (GLS) for the Blind and Print Disabled today.
Anyone who is unable to read or handle standard printed materials as a result of temporary or permanent visual or physical disability.
Persons who are legally blind or cannot see well enough or focus long enough to read standard print, even with glasses.
Persons who are unable to hold or turn pages of print books.
Persons who are certified by a medical doctor as having a reading disability. Application for Service (PDF)
All potential patrons must enroll in GLS services and have their application signed by a certifying authority. That certifying authority must be someone who can attest to the condition that is making a person eligible. This is typically a physician, a nurse, professional caregiver, therapist or educator– sorry relatives cannot certify people. A librarian can certify patrons as well.
Access to a collection of narrator-read audiobooks
Access to the large print collection from the entire PINES network
Access to the Bookshare collection in a variety of formats including text-to-speech audio, braille or highlight text
Access to embossed and digital braille
A digital talking book machine that is very simple to use
Free postage to return materials
Telephone support from GLS Reader Advisors who can help patrons select the books that they want to read
An app for instant access to audiobooks for mobile devices for those who are comfortable with technology
Access to a collection of audio described popular movies on DVD or Blu-Ray
Remote programming include book clubs, children's summer reading programs, peer support groups
BARD
BARD (Braille and Audio Reading Download): Once you have been accepted as a talking book patron, you can download books and magazines directly to your computer from the NLS BARD website and store them on a flash drive that will play in your digital book machine.  Access to the BARD website is restricted to eligible readers.  You will need a login ID and password.  If you do not have them, review the criteria for participation in the BARD Application Instructions on the BARD website and request an account if you qualify. The link to BARD is https://nlsbard.loc.gov. Tutorial videos: How to Download from BARD BARD "How-To" Series, provided by The Library of Congress
GLS Atlanta: GLS Atlanta Library
First Floor 
One Margaret Mitchell Square, NW
Atlanta, GA 30303
PHONE: 1-800-248-6701
E-MAIL: gls@georgialibraries.org