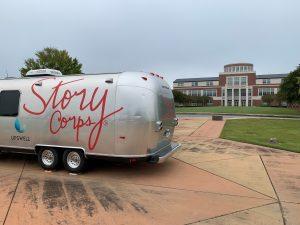 It's time to tell us your story… before it's too late!
StoryCorps, the national nonprofit organization dedicated to recording, preserving, and sharing the stories of people from all backgrounds and beliefs, has returned to Columbus and the Chattahoochee Valley Libraries!
But they will only be here through November 12th, so NOW is the time to sign up for your interview!
Heard internationally on NPR, on YouTube and through podcasts, the StoryCorps Mobile Tour (now in its 17th year) has facilitated thousands of meaningful conversations between people who know and care about one another in locations across the country.
The Mobile Tour, brought to you by StoryCorps and Georgia Public Broadcasting with additional support from the Chattahoochee Valley Libraries and VisitColumbusGA, is hosting interviews  at the Columbus Public Library until November 12.
In a StoryCorps interview, two people record a meaningful conversation with one another about who they are, what they've learned in life, and how they want to be remembered. A trained StoryCorps facilitator guides them through the interview process. After each 40-minute recording session, participants receive a digital copy of their interview. With participant permission, a second copy is archived at the American Folklife Center at the Library of Congress for future generations to hear.
Please click here for complete information about the interview process, including links for signing up for an in-person or virtual interview.
Please click here to download a printable fact sheet about StoryCorps and how to sign up for an interview.
This is the second visit by StoryCorps to our area in recent years. In 2015, over 300 people participated during a special six-month residency at the Mildred L. Terry Public Library.
Major support for the mobile tour is provided by the Corporation for Public Broadcasting in partnership with the American Folklife Center at the Library of Congress.
About StoryCorps
Founded in 2003 by Dave Isay, StoryCorps has given over half a million Americans of all backgrounds and beliefs, in towns and cities in all 50 states, the chance to record interviews about their lives. The organization preserves the recordings in its archive at the Library of Congress, the largest single collection of human voices ever gathered, and shares select stories with the public through StoryCorps' weekly podcast, NPR broadcasts, animated shorts, digital platforms, and best-selling books. These powerful human stories reflect the vast range of American experiences, wisdom and values; engender empathy and connection; and remind us how much more we have in common than divides us. For more information visit storycorps.org, or follow us on Instagram, Facebook, Twitter, and YouTube at @storycorps.
---