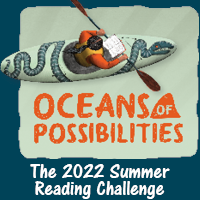 OCEANS OF POSSIBILITIES await you this summer at the Chattahoochee Valley Libraries… including the possibility of winning some fabulous prizes!
The Chattahoochee Valley Libraries are once again encouraging EVERYONE to read this summer as part of our annual Summer Reading Challenge!
The rules are simple…  Just read ten books (for kids, including babies!) or for four hours (for older kids, teens and adults) and you are on your way to winning. See below for the many ways you can log and report your reading to us.
The fun starts on May 14th and runs through July 31st.
HOW TO LOG YOUR READING
This summer we have two ways to log your reading: our new Beanstack Online Website and App, and good old fashioned paper.
Beanstack
Beanstack allows you a quick way to log your reading, either online or through their Beanstack Tracker App, available for Apple and Google Play. You can create accounts for yourself and for your children, and you can enter your reading as an individual or your family.
It's quick and easy!
Paper
Good old paper! Some of us still love the paper logs. You can pick up an individual or family log at your favorite library branch, or you can download an individual log or family log. Print these out, fill them out, then bring them back in to claim your prize!
COMPLETIONS MEAN PRIZES!
Once you have finished your ten books or four hours, come on in to the Library! If you used a paper log, bring it with you… otherwise we will look up your account in Beanstack.
Your first completion brings you a nice thank you gift from the Library – a new book for kids, water bottles and mood cups for teens, and, for the grown-ups, your choice from stainless water bottles, mugs, planters and power banks. And it gets you your first grand prize entry in our End-of-Summer Grand Prize Drawing for VISA gift cards and more!
But don't stop there! Each additional completion earns you another small completion prize (stickers, buttons, candy, mood pencils, etc) AND another Grand Prize Entry!
GOLDEN TICKET TUESDAY returns JULY 5th
What could be better than coming to your library and getting prizes? Well that's happening AGAIN on Tuesday July 5th… Golden Ticket Tuesday returns!
Visit your favorite branch of the Chattahoochee Valley Libraries during normal business hours that Tuesday. Come inside and show us your library card (or apply for a library card). Each card will receive their Summer Reading kit with reading logs, some fun prizes, and their very own GOLDEN TICKET! Scratch off the ticket to see if you're one of the lucky winners of a $50 VISA Gift Card.
Remember that there is only one starter kit per library card (or application), and you must be present to receive a kit. Offer is good only while supplies last, some come early!
PROGRAMS GALORE
YES, in-person programs are back and better than ever at your library! Come join us for a movie, a storytime, a book discussion, an exhibit or more! Be sure to check out our comprehensive Events calendar for a complete listing.
OCEANS OF POSSIBILITIES… the 2022 Summer Reading Challenge is brought to you by the Chattahoochee Valley Libraries and is sponsored by AFLAC.
---