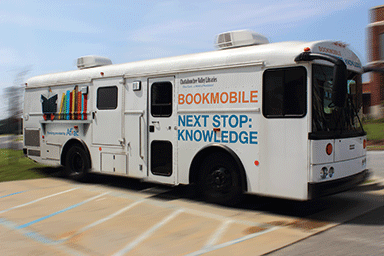 The Muscogee County Bookmobile visits 40+ locations monthly, on a bi-weekly basis. It "brings the Library" to retirement centers, senior centers and nursing homes for people who are unable to travel to a local branch. Special evening visits are made to Muscogee County housing projects and after-school centers once a week as well as a monthly Sunday afternoon visit to three apartment complexes which house persons with disabilities.
The Bookmobile provides all the conveniences of our bricks and mortar libraries; books, DVDs, CDs, magazines, self help material and more! It enables the Library to reach out to those without the means to visit our Library branches in Muscogee County. Love to read? We have books and so much more! One Card…a world of possibilities!
For more information, please call Columbus Public Library at 706-243-2678.
Outreach Service Type
Books and Reading
Computers and Wifi
DVDs
Library Card Sign Ups
Audience
Birth - 5
Children Grades K-5th
Teen Grades 6-12th
Adults 18+