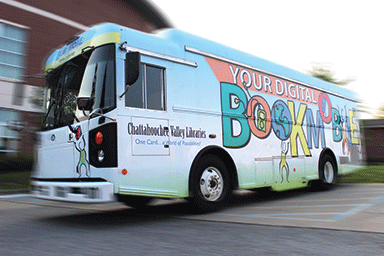 The Chattahoochee Valley Libraries' Digital Bookmobile was funded by a grant from the John S. and James L. Knight Foundation. It features free broadband technology, internet access, and regular Library services to residents of Muscogee County. The Digital Bookmobile provides all the amenities found in a traditional "bricks and mortar" library, including books, DVDs, CDs, and six computers that will connect to the Internet.
The Digital Bookmobile offers a complete range of library products and programs that will now include Internet access for research, online-only job applications, school work, and GED classes, tax assistance, voter registration, computer training, and filing for services such as unemployment benefits, and other private and public programs. It will look and feel similar to a library branch.
The grant to the Chattahoochee Valley Libraries is part of a $5.7 million Knight Foundation initiative benefiting library users in 20 communities across the United States. The effort reinforces the sweeping recommendations by the Knight Commission on the Information Needs of Communities in a Democracy, a project of the Aspen Institute. In a report issued earlier this year, the Commission asserted that democracy in America is threatened by the lack of equal access to quality information. Funding public libraries, as centers of digital and media training, is one key to filling the gaps, the commission says. 
Outreach Service Type
Books and Reading
Computers and Wifi
DVDs
Library Card Sign Ups
Audience
Birth - 5
Children Grades K-5th
Teen Grades 6-12th
Adults 18+