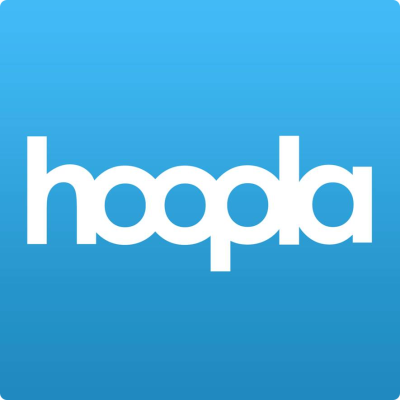 With Hoopla you have immediate access to instantly borrow eAudiobooks, comics, music, movies and TV episodes with NO HOLDS, and NO WAITING!
Here are some great features –
There's no need to worry about late fees; hoopla features an automated service that returns your item once your time is up. 
Content can be streamed to computers, tablets or smartphones, and can be downloaded to mobile devices to allow for offline viewing any time.
You can check out up to 15 items from hoopla each month.
Getting started:
If you are a first-time user, create a hoopla account by clicking on the link to the hoopla site and selecting "Sign Up Now."  When creating your account, enter your email address, a password, and your library card number. If you are accessing with a tablet or smartphone, follow the instructions to download the free app compatible with your device.
With the addition of Movies and TV, you can download the Hoopla app to your Roku, AppleTV, Firestick, AndroidTV, etc. to watch the video content in addition to your smartphones/tablets.  You can even add it to Alexa.  If someone is looking for help on how to do this, Hoopla offers some great instructions at Enjoy!
Only interested in seeing content for kids and families?  Visit your "Settings" in the hoopla app or Account page on the hoopla site and flip the toggle to put hoopla into Kids Mode.  Doing so replicates the experience kids might have in the children's section of the Library.