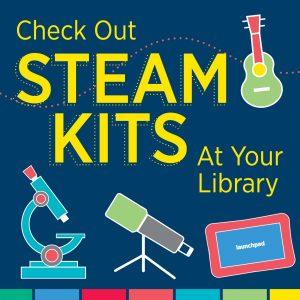 You can check out a STEAM Kit at any of our branches!
STEAM Kits check out for 7 days; items on hold for another customer cannot be renewed.
STEAM Kits must be returned to the library where they were checked out
Holds for STEAM Kits will not be shelved in the holds section; rather, they will be available at each library's service desk
The Telescope Kit is designed for viewing the night sky. The Celestron 70mm Portable Refractor Travel Scope features high-quality, fully-coated glass optics, a potent 70mm objective lens, a lightweight frame, and a custom backpack to carry it all. Powerful eyepieces for up-close viewing equipped with two high-quality eyepieces (20mm and 10mm). The kit also includes a book on constellations for kids to get you started.
Target age: anyone
Each kit includes a GoPro camera, mounting frame, tripod, and various accessories to help you capture all of your adventures!
The Microscope Kit comes with everything needed to make learning fun and accessible for young scientists. The kit including plastic slides, LED light, and a handy carrying case. It also includes a book to inspire kids to seek out all the microscopic creatures hiding all around us.
Target age: Designed for children at least 13 years old, with adult supervision only for younger
Begin your Snap Circuit experience with a wonderful introduction to problem solving and following directions. This kit includes 14 parts and you can build more than 20 projects learning the basics of how switches and circuits work. The included color manual was created just for younger "engineers" with very few words and lots of step-by-step diagrams
Target age: 5 and up
Snap Circuits Arcade provides for over 200 exciting projects, including 20+ build-and-play games, and teaches the skills needed to complete, troubleshoot and solve problems, and enjoy the satisfaction of a job well done.
Target age: 8 and up
The Video Creation Kit includes everything you need for shooting breathtaking photos and viral videos with your smartphone (not included). It includes LED light, microphone, table-top tripod, books on vlogging and making YouTube videos, and other useful video accessories.
Target age: Recommended for ages 12 and over
The benefits of music are monumental! Ukuleles are the perfect first instrument for kids to learn to play.The Ukulele Kit includes a ukulele in a case, tuner, and books with CD/DVD to get you started learning to play!
Target age: 5 and up
The Xylophone Kit has 25 perfectly tuned and brilliant sounding bars mounted into an attached style case, and includes mallets and a note chart.
Target age: Any
Check out this easy-to-use USB digital audio device that provides pro-level recording quality that fits right in the palm of your hand.
Launchpads are pre-loaded tablets designed for children that circulate for two weeks. The Library has Launchpads geared for either 3-5 year-olds or 5-7 year-olds. Each Launchpad is loaded with 10 or more subject-specific apps. Subject areas include animals, languages, math, science, STEAM, story collections and more!
Launchpads are available at all CVL branches! Check one out today!
---