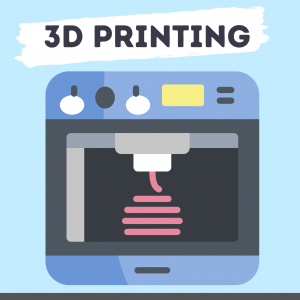 The Chattahoochee Valley Libraries is now offering 3D printing for the public. This service is free for all ages, but is limited to one single print file (object no larger than 6.5″ x 6″ x 6.5″ and 4 hours to print) per Library user per week. You do not have a to have a Library card to make a 3D printing request. Simply upload your design using our 3D Printing Request Form to our Teen Department staff for processing. Print jobs will be ready for pick up within 7 days of submission at the Columbus Public Library Teen Department.
 Frequently Asked Questions

Q.  WHERE CAN I DOWNLOAD 3D FILES?
We suggest you download an object from Thingiverse or use free modeling software like Tinkercad to create design.
You will need to be 13 years or older and have a valid e-mail address to sign up for a Tinkercad account. Any 3D modeling software that creates. STL files will work. Do your research, some require you to download software and other are web-based and open source.
Use Cura Slicer to manipulate a file or check the estimated print time.
Q. WHAT FILE TYPE (S) CAN BE SUBMITTED AND HOW SHOULD I FORM AT THE FILE NAME?
Please submit .STL files only and save them as:
LASTNAME_FIRSTNAME_OBJECTNAME (EX: SMITH_JOHN_VASE)
Q. WHEN AND WHERE CAN I PICK UP MY PRINT?
Columbus Public Library prints files daily. For all print jobs, please allow up to seven business days from submission for your item to be completed. Users will be notified that their print is complete via email or phone. You must pick up your item via curbside pickup or at the front desk of the Columbus Public Library Teen Department. Items will not be transferred between branches because they may break.
Q. ARE THERE ANY RESTRICTIONS?
The Library reserves the right to refuse any print. The Library will not print weapons or any items that:
* Are prohibited by local, state, or federal law.
* Are unsafe, harmful, dangerous, or pose an immediate threat to the well-being of others.
* Violate our Customer Code of Conduct or are inappropriate in the Library environment.
Please call 706-243-2811 with any questions.
---